News & Events
New book "Fear Your Strengths" out April 1, 2013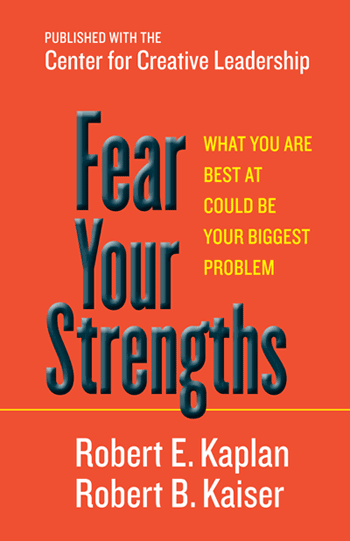 ---
Kaiser, Overfield teach HR executives about "Filling your leadership pipeline…"
"Filling your leadership pipeline, one manager at a time"
KDI Partner, Rob Kaiser, and Senior Consultant, Darren Overfield, were invited by Human Resources Executive magazine to present their research and application models for understanding the challenge managers face as they navigate upward transitions on the career path. Starting where Kaiser's 2005 book, Filling the Leadership Pipeline, left off, the presenters shared findings to be published in the June 2011 special issue of The Psychologist-Manager Journal, guest edited by Kaiser, and entitled, "The Leadership Pipeline: Fad, Fashion, or Fact?" Based on the updated research, the presenters also shared a concise model for HR/OD/Talent managers to implement when helping managers make a successful leap to the next level of leadership.
Date: May 12, 2011
Time: 2:30-3:30 p.m. ET
Red Auerbach, the nine-time NBA champion basketball coach, was once asked how to motivate a team. "One player at a time," he replied. The same is true for filling your leadership pipeline, be it through internal or external candidates: You fill it one manager at a time. Of course, you need a robust system and scalable process, but you also must have strategies and practices that address the specific needs of each individual manager as he or she navigates the tricky transition into a larger role.
This Webinar summarized recent research that shows too many executives lead more like middle managers—which disengages their people, compromises their teams and lowers company performance. The presenters, Robert Kaiser and Darren Overfield of Kaplan DeVries Inc., will reviewed what's required to lead effectively at both the manager and executive level—and why it's so difficult for managers to reinvent their leadership to suit higher-level job demands. Also presented was a scalable methodology for helping managers make a successful upward transition.
---
KDI thought leaders present at International Conference for Organizational Psychology
KDI hosted a thought-provoking session on "Follow Through, The Key to ROI in Executive Coaching," and contributed to a session on Employability with surprising research on "What Executive Selection Committee Want, for Better or Worse" at the annual conference for the Society of Industrial-Organizational Psychologists in Chicago April 14-16, 2011. Presentation slides and papers are available below. Click on the session title to retrieve materials.
FOLLOW THROUGH, THE KEY TO ROI IN EXECUTIVE COACHING
Robert B. Kaiser (Chair, presenter), Darren Overfield (presenter)
WHAT EXECUTIVE SELECTION COMMITTEE WANT, FOR BETTER OR WORSE
Robert B. Kaiser, presenter
Click session titles to view more and download presentations
---
KDI leads two sessions at Society for Consulting Psychology conference
KDI partner, Rob Kaiser, chaired two sessions at the 2011 Midwinter Conference of the Society for Consulting Psychology. The first, "The Leadership Pipeline: Fad, Fashion, or Empirical Fact?," included KDI senior consultant, Darren Overfield, and featured two studies that tested the assumption that the behaviors related to effectiveness are different for supervisors, middle managers, and executives along with practical commentary on the implications of the findings. The second session, "A Long Hard Look in the Mirror: Assessing Our Role in the Leadership Crisis," noted that as spending on leadership development has increased, confidence in leadership has decreased. The session featured four thought leaders in leadership consulting who offered their perspectives on how development professionals may have contributed to the problem and led a dialogue with the audience on how the field could be part of the solution.
Review "Leadership Pipeline" presentations
Review "Leadership Crisis" presentations
---
Rob Kaiser warns crowd of 5,000 in Mexico City about the "Hidden Danger in Playing to Strength"
---
KDI Leads Sessions on Leadership at International Conference for Organizational Psychology
---
Rob Kaiser tells HR World Forum in Monterrey, Mexico, "Play to your strengths - but don't get seduced!"
---
KDI leads session on "Developing Adaptable Leaders for an Age of Uncertainty"
---
Rob Kaiser explains "Leadership Lessons from the Past" at LBS
---
Leadership Versatility Index voted the most useful 360 for executive development
---
?