News & Events
New book "Fear Your Strengths" out April 1, 2013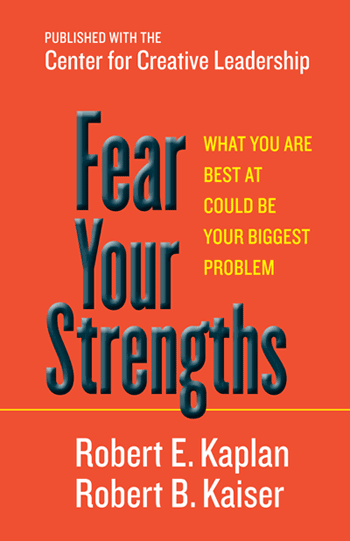 ---
KDI thought leaders present at International Conference for Organizational Psychology
KDI hosted a thought-provoking session on "Follow Through, The Key to ROI in Executive Coaching," and contributed to a session on Employability with surprising research on "What Executive Selection Committee Want, for Better or Worse" at the annual conference for the Society of Industrial-Organizational Psychologists in Chicago April 14-16, 2011. Presentation slides and papers are available below. Click on the session title to retrieve materials.
FOLLOW THROUGH, THE KEY TO ROI IN EXECUTIVE COACHING
Robert B. Kaiser (Chair, presenter), Darren Overfield (presenter)
WHAT EXECUTIVE SELECTION COMMITTEE WANT, FOR BETTER OR WORSE
Robert B. Kaiser, presenter
Click session titles to view more and download presentations
---
KDI leads two sessions at Society for Consulting Psychology conference
KDI partner, Rob Kaiser, chaired two sessions at the 2011 Midwinter Conference of the Society for Consulting Psychology. The first, "The Leadership Pipeline: Fad, Fashion, or Empirical Fact?," included KDI senior consultant, Darren Overfield, and featured two studies that tested the assumption that the behaviors related to effectiveness are different for supervisors, middle managers, and executives along with practical commentary on the implications of the findings. The second session, "A Long Hard Look in the Mirror: Assessing Our Role in the Leadership Crisis," noted that as spending on leadership development has increased, confidence in leadership has decreased. The session featured four thought leaders in leadership consulting who offered their perspectives on how development professionals may have contributed to the problem and led a dialogue with the audience on how the field could be part of the solution.
Review "Leadership Pipeline" presentations
Review "Leadership Crisis" presentations
---
KDI Leads Sessions on Leadership at International Conference for Organizational Psychology
---
Leadership Versatility Index voted the most useful 360 for executive development
---
KDI organizes panel on "Improving Follow-through, the Achilles' Heel of Coaching"
---
Bob Kaplan and Rob Kaiser advise managers to stop over-relying on their strengths and learn to develop versatility in a Harvard Business Review article.
---
November 26, 2008: Rob Kaiser of Kaplan DeVries assembles thought leaders to expose the half-truths and hidden dangers in focusing only on strengths in development. New book: "The Perils of Accentuating the Positive," Hogan Press, March 2009.
---
Latest research and thought leadership presented at annual SIOP Conference. Downloads available.
---
KDI thought-leaders re-frame the debate about "leadership effectiveness" in the American Psychologist...
---
?